Wrong Place Wrong Time
- Gillian McAllister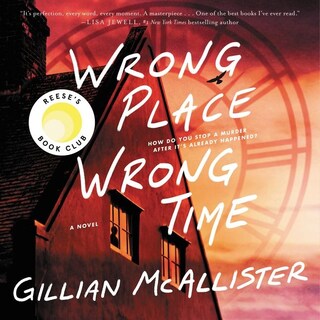 Zusammenfassung
INSTANT NEW YORK TIMES BESTSELLER • A REESE'S BOOK CLUB PICK

"It's perfection, every word, every moment. A masterpiece . . . One of the best books I've ever read." —Lisa Jewell, #1 New York Times bestselling author

"Absolutely AMAZING. The plot is astonishing—original and ingenious. But it's much more than that; the love Jen has for her son and her husband is beautiful. The stakes are so high because they're so meaningful." —Marin Keyes, internationally bestselling author

"A brilliantly genre-bending, mind-twisting answer to the question How far would you go to save your child?" —Ruth Ware, #1 New York Times bestselling author

"Daring, inventive, exhilarating, twisted. This is virtuoso storytelling. Please dive in. It's the right place and the right time." —A. J. Finn, #1 New York Times bestselling author

"A work of such genius it leaves you in awe. Wrong Place, Wrong Time is impossibly clever, daringly original and heart-rending. Exceptional." —Chris Whitaker, New York Times bestselling author of We Begin at the End

From UK bestselling author Gillian McAllister comes an astonishing, compulsively twisty psychological thriller about a mother who witnesses her teenage son stab a man and then seizes on an unconventional way to try to save him, deemed "clever, original, and so addictive it should come with a warning" by Alice Feeney, bestselling author of Rock Paper Scissors

Can you stop a murder after it's already happened?

Late October. After midnight. You're waiting up for your eighteen-year-old son. He's past curfew. As you watch from the window, he emerges, and you realize he isn't alone: he's walking toward a man, and he's armed.

You can't believe it when you see him do it: your funny, happy teenage son, he kills a stranger, right there on the street outside your house. You don't know who. You don't know why. You only know your son is now in custody, his future shattered.

That night you fall asleep in despair. All is lost.

Until you wake . . .

. . . and it is yesterday.

And then you wake again . . .

. . . and it is the day before yesterday.

Every morning you wake up a day earlier, another day before the murder. With another chance to stop it. Somewhere in the past lies an answer. The trigger for this crime—and you don't have a choice but to find it . . .

"Another ingeniously plotted genre-bender… McAllister succeeds in making us care, and the result is a tour de force." — The Guardian

"This entertaining look at motherhood and memory will resonate with many." — Publishers Weekly


Das denken andere über das Buch
Rezensionen zu Wrong Place Wrong Time -
Hörbuch
Very nice voice to listen to. And a very suspenseful story !
Fantastic book, gripping story right off the beginning. Go read it! Narrator does a wonderful job conveying all the feelings. Looking forward to reading more of this author 😊
I loved every minute of it! Such an amazing story.
This is my favorite book 😍
Unusual, fascinating and gripping, very clever plot with lots of twists!
Wow, this book is brilliant!!!!
Interesting story, good narrator, but annoying sound quality
Spannend und mitreißend. Hat mir sehr gut gefallen.
I found it somewhat hard to follow the story. Not only because of the characters but rather because of the narrator
Eins der besten Hörbücher, die ich in letzter Zeit, wenn nicht sogar in den letzten Jahren, gehört habe! Spannend von der ersten bis zur letzten Minute! Und es regt auch zum Nach- und weiterdenken an. Daumen hoch!
Absolutely bloody brilliant!! Best book I've heard in quite a while! So cleverly done. 6 points out of 5
Tolles Buch! Sehr empfehlenswert!