The Unnamable (Howard Phillips Lovecraft)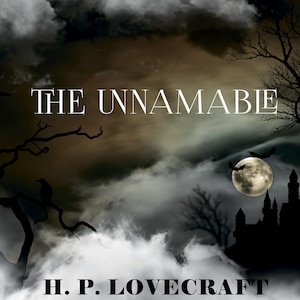 Zusammenfassung
"The Unnamable" is a horror short story by American author H. P. Lovecraft. It was written in September 1923, first published in the July 1925 issue of Weird Tales, and first collected in Beyond the Wall of Sleep. The corrected text appears in Dagon and Other Macabre Tales, (revised ed, 1986). The story's locale was inspired by the Charter Street Historic District Burying Ground in Salem.
Carter, a weird fiction writer, who is likely the Randolph Carter who features in some of Lovecraft's other tales such as "The Statement of Randolph Carter", meets with his close friend, Joel Manton, in a cemetery near an old, dilapidated house on Meadow Hill in the town of Arkham, Massachusetts. As the two sit upon a weathered tomb, Carter tells Manton the tale of an indescribable entity that allegedly haunts the house and surrounding area...
Famous works of the author Howard Phillips Lovecraft: At the Mountains of Madness, The Dreams in the Witch House, The Horror at Red Hook, The Shadow Out of Time, The Shadows over Innsmouth, The Alchemist, Reanimator, Ex Oblivione, Azathoth, The Call of Cthulhu, The Cats of Ulthar, The Dunwich Horror, The Doom that Came to Sarnath, The Festival, The Silver Key, The Other Gods, The Outsider, The Temple, The Picture in the House, The Shunned House, The Terrible Old Man, The Tomb, Dagon, From Beyond, What the Moon Brings.
© 2020 Strelbytskyy Multimedia Publishing (Hörbuch)