Through the Gates of the Silver Key (Howard Phillips Lovecraft)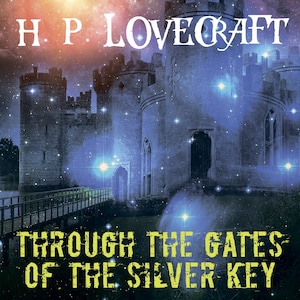 Zusammenfassung
"Through the Gates of the Silver Key" is a short story co-written by American writers H. P. Lovecraft and E. Hoffmann Price between October 1932 and April 1933. A sequel to Lovecraft's "The Silver Key", and part of a sequence of stories focusing on Randolph Carter, it was first published in the July 1934 issue of Weird Tales.
At a gathering to decide the fate of Randolph Carter's estate (which has been held in trust since his disappearance) the mysterious Swami Chandraputra, who wears curious mittens and enveloping robes, tells Carter's acquaintances of his ultimate fate. He explains that the key took Carter to a type of higher dimension. There, Carter, on an ill-defined mission (or out of sheer curiosity), travelled strange sections of the cosmos by first meeting with 'Umr at-Tawil, a dangerous being warned of in the Necronomicon, saying those who deal with it never return. 'Umr at-Tawil offers Carter a chance to plunge deeper into the cosmos; Carter thus perceives the true nature of the universe before passing through the "Ultimate Gate."
Famous works of the author Howard Phillips Lovecraft: At the Mountains of Madness, The Dreams in the Witch House, The Horror at Red Hook, The Shadow Out of Time, The Shadows over Innsmouth, The Alchemist, Reanimator, Ex Oblivione, Azathoth, The Call of Cthulhu, The Cats of Ulthar, The Dunwich Horror, The Doom that Came to Sarnath, The Festival, The Silver Key, The Other Gods, The Outsider, The Temple, The Picture in the House, The Shunned House, The Terrible Old Man, The Tomb, Dagon, From Beyond, What the Moon Brings.
© 2020 Strelbytskyy Multimedia Publishing (Hörbuch)