The Seven Husbands of Evelyn Hugo
The Sunday Times Bestseller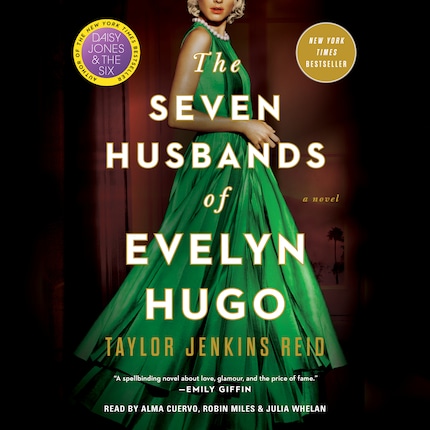 Buchbeschreibung
THE SUNDAY TIMES BESTSELLER AND TIKTOK SENSATION
SOON TO BE A NETFLIX FILM

'Riveting, heart-wrenching and full of Old Hollywood glamour' BuzzFeed
'This wildly addictive journey of a reclusive Hollywood starlet and her tumultuous Tinseltown journey comes with unexpected twists and the most satisfying of drama' PopSugar

From the author of Daisy Jones & The Six in which a legendary film actress reflects on her relentless rise to the top and the risks she took, the loves she lost, and the long-held secrets the public could never imagine.

Aging and reclusive Hollywood movie icon Evelyn Hugo is finally ready to tell the truth about her glamorous and scandalous life. But when she chooses unknown magazine reporter Monique Grant for the job, no one is more astounded than Monique herself. Why her? Why now?

Monique is not exactly on top of the world. Her husband has left her, and her professional life is going nowhere. Regardless of why Evelyn has selected her to write her biography, Monique is determined to use this opportunity to jumpstart her career.

Summoned to Evelyn's luxurious apartment, Monique listens in fascination as the actress tells her story. From making her way to Los Angeles in the 1950s to her decision to leave show business in the '80s, and, of course, the seven husbands along the way, Evelyn unspools a tale of ruthless ambition, unexpected friendship, and a great forbidden love. Monique begins to feel a very real connection to the legendary star, but as Evelyn's story near its conclusion, it becomes clear that her life intersects with Monique's own in tragic and irreversible ways.

The Seven Husbands of Evelyn Hugo is a mesmerizing journey through the splendour of old Hollywood into the harsh realities of the present day as two women struggle with what it means and what it costs to face the truth.

© 2017 © 2017 Rabbit Reid, Inc. All rights reserved (P) 2017 Simon & Schuster Inc. All Rights Reserved. (Hörbuch)
Das denken andere über das Buch
Rezensionen zu The Seven Husbands of Evelyn Hugo -
Hörbuch
Evelyns Story was intriguing and fascinating, her character was so mulitfaceted. Especially in comparisons Monique felt flat and her story didn't add much to the book, except for the plottwist at the end. Still a very enjoyable listen and would recommend!
I loved the calm and steady reading - with enough but not to mich emotion in it. The book itself is fantastic.
I didn't have much expectations about this book and at some point. I found myself not being able to stop listening to it. Captivating in all senses!!
Tolles Buch mit einem unerwarteten Ende