The Life and Adventures of Martin Chuzzlewit
- Charles Dickens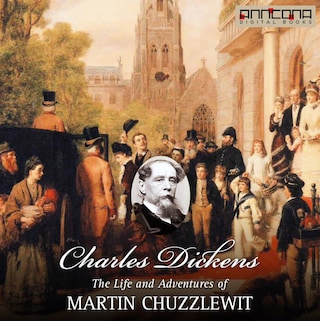 Zusammenfassung
The Life and Adventures of Martin Chuzzlewit (commonly known as Martin Chuzzlewit) is a novel by Charles Dickens, considered the last of his picaresque novels. It was originally serialised in 1843 and 1844. Dickens thought it to be his best work, but it was one of his least popular novels. Like nearly all of Dickens' novels, Martin Chuzzlewit was released to the public in monthly instalments. Early sales of the monthly parts were disappointing, compared to previous works, so Dickens changed the plot to send the title character to America. This allowed the author to portray the United States (which he had visited in 1842) satirically as a near wilderness with pockets of civilisation filled with deceptive and self-promoting hucksters.

The main theme of the novel, according to a preface by Dickens, is selfishness, portrayed in a satirical fashion using all the members of the Chuzzlewit family. The novel is also notable for two of Dickens' great villains, Seth Pecksniff and Jonas Chuzzlewit. It is dedicated to Angela Georgina Burdett-Coutts, a friend of Dickens.

The novel was seen by some to contain attacks on America, although Dickens himself saw it as satire, similar in spirit to his "attacks" on the people and institutions of England in novels such as Oliver Twist. And, while fraud is shown as a common feature in America, the insurance scheme practiced in this novel in England is equally fraudulent. Americans are satirically portrayed: they proclaim their equality at every opportunity but, when they have travelled to England, they claim to have been received only by aristocrats. The Republic is described as "so maimed and lame, so full of sores and ulcers, foul to the eye and almost hopeless to the sense, that her best friends turn from the loathsome creature with disgust".
The novel was adapted into a television miniseries of the same name in 1994.

Audiobook running time: 31 hours. Unabridged version - 355,821 words - 977 pages in the printed edition.

Charles John Huffam Dickens (1812-1870) was an English writer and social critic. He created some of the world's most memorable fictional characters and is generally regarded as the greatest novelist of the Victorian period. During his life, his works enjoyed unprecedented fame, and by the twentieth century his literary genius was broadly acknowledged by critics and scholars. His novels and short stories continue to be widely popular. Dickens was regarded as the literary colossus of his age. His 1843 novella, A Christmas Carol, is one of the most influential works ever written, and it remains popular and continues to inspire adaptations in every artistic genre. Set in London and Paris, his 1859 novel, A Tale of Two Cities, is the best selling novel of all time. His creative genius has been praised by fellow writers, from Leo Tolstoy to George Orwell and G. K. Chesterton, for its realism, comedy, prose style, unique characterisations, and social criticism.