The Life, Adventures & Piracies of Captain Singleton
- Daniel Defoe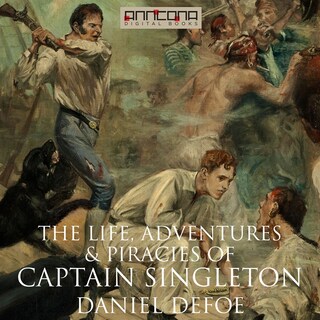 Zusammenfassung
The Life, Adventures and Piracies of the Famous Captain Singleton (1720) is a novel by Daniel Defoe. It is believed to have been partly inspired by the exploits of English pirate Henry Every.

The narrative describes the life of an Englishman, stolen from a well-to-do family as a child and raised by Gypsies who eventually makes his way to sea.

The novel is a bipartite adventure story whose first half covers a traversal of Africa and whose second half taps into the contemporary fascination with piracy. It has been commended for its sensitive depiction of the close relationship between the eponymous hero and his religious mentor, the Quaker William Walters.

Daniel Defoe (c. 1660-1731), was an English trader, writer, journalist and spy, now most famous for his novel Robinson Crusoe. Defoe is notable for being one of the earliest proponents of the novel, as he helped to popularize the form in Britain, and, along with others such as Samuel Richardson, is among the founders of the English novel. A prolific and versatile writer, he wrote more than 500 books, pamphlets and journals on various topics (including politics, crime, religion, marriage, psychology and the supernatural).