The Legion of Lazarus
- Edmond Hamilton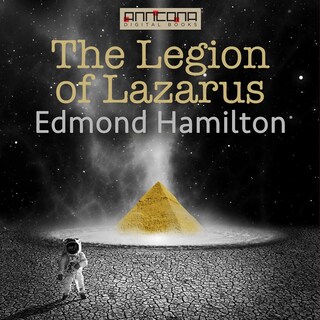 Zusammenfassung
The Legion of Lazarus is a classic science fiction novel by American author Edmond Hamilton first published in Imagination magazine 1956.

Those convicted of the most heinous crimes are sentenced to the Humane Penalty: they are ejected from the airlock of a ship, to freeze in the icy chill of outer space. Death is instantaneous. But in some cases, not permanent.

Being expelled from an air lock into deep space was the legal method of execution. But it was also the only way a man could qualify for -- the Legion of Lazarus!

"It isn't so bad," says one of the men who are with you inside this ultimate room. "Fifty years from now, the rest of us will all be old, or dead." And then you're waking again, and you think, "Fifty years." you think. "It's been fifty years." But another part of your mind says, "No, it is only tomorrow morning."

Total Running Time (TRT): 2 hours, 35 min. Reading by Peter Eastman.

Edmond Moore Hamilton (1904-1977) was a popular science-fiction author during the "Golden Age" of American science fiction.

Hamilton's career began as a regular and frequent contributor to Weird Tales magazine. The first hardcover publication of Science Fiction stories was a Hamilton compilation, and he and E.E. "Doc" Smith are credited with the creation of the Space Opera type of story.

Hamilton worked for DC Comics authoring many stories for their Superman and Batman characters. Hamilton was instrumental in the early growth of the Legion of Super-Heroes feature, as one of its first regular writers.


© Anncona Media (Hörbuch)
© Anncona Media (E-Book)