The Journey
- Josephine Cox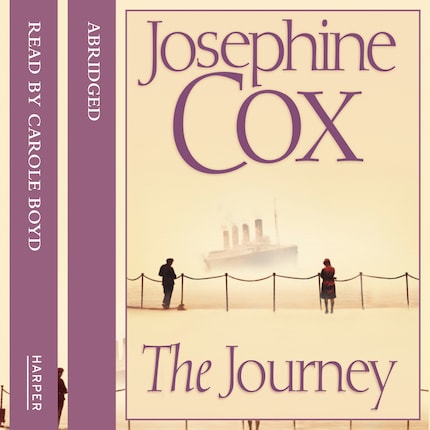 Zusammenfassung
Read by Carole Boyd.

The new bestseller from the country's number one storyteller is a deeply moving and powerful tale of love and courage and a sacrifice no man should be asked to make.

The story begins in 1952 when three strangers meet in a churchyard. One is a local farmer, Ben Morris, walking through the churchyard from his farmhouse. The other two – Lucy and Eileen Baker – are mother and daughter, bringing flowers to lay at the resting place of a man by the name of Barney Davidson. There is an air of mystery about them which greatly intrigues Ben.

When the older woman stumbles, Ben offers to help. The offer is refused but in that moment of contact with the younger of the two women, he finds himself oddly drawn to her.

When a handbag is found, Ben is nominated to return it to an address found inside. He goes to an old Edwardian house which is rumoured to have been a place of ill-repute many years ago. For reasons unknown, this rumour is vigorously denied by an elder who has lived in the hamlet of Salford all her life. When Ben returns with the handbag and is invited into the house, he is caught up in something that will change his life forever.

When the old woman is taken ill, and haunted by what happened long ago in her youth, she finally confesses the truth to Ben and her daughter Eileen. What she has to say shocks and amazes Ben, so much so that he can't get it out of his mind.

The extraordinary events that follow keep Ben and Eileen at the centre. As the story unfolds, the years fall away. Unsuspecting people are drawn together from both sides of the Atlantic. At long last the real truth about Barney Davidson is known. He was indeed a man amongst men. What he did changed all their lives in ways that could never have been imagined.