The Jolly Corner
- Henry James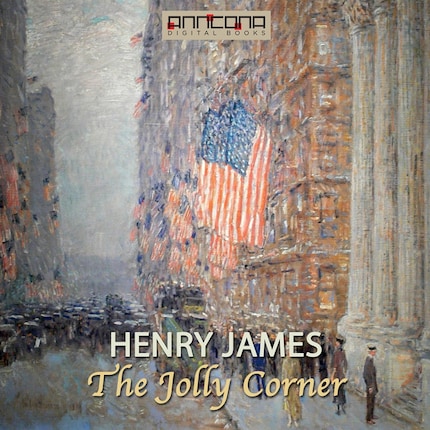 Zusammenfassung
The Jolly Corner is a short story by Henry James published first in the magazine The English Review of December, 1908.

One of James' most noted ghost stories, The Jolly Corner describes the adventures of Spencer Brydon as he prowls the now-empty New York house where he grew up. He encounters a "sensation more complex than had ever before found itself consistent with sanity."

Brydon, is an American of 56, returned to New York after 33 years in Europe, where he has apparently accomplished little while living off his New York rentals.

His friendship with Alice Staverton, and his engagement in the development of a property awaken him to the possibilities that might have been his, had he chosen a different course of life.

The "ghost," if that's what it is, is that other self that might have been, and his confrontation with that self and its possibilities leads to a deeply unsettling, yet ambiguous, conclusion.

The Jolly Corner, is considered by many to be a ghost story ranking second only to The Turn of the Screw.

Total Running Time (TRT): 1h, 35min

Henry James, OM (Order of Merit) (1843-1916) was an American-born writer, regarded as one of the key figures of 19th-century literary realism.

He is best known for a number of novels showing Americans encountering Europe and Europeans. His method of writing from a character's point of view allowed him to explore issues related to consciousness and perception, and his style in later works has been compared to impressionist painting. His imaginative use of point of view, interior monologue and unreliable narrators brought a new depth to narrative fiction.

Henry James was nominated for the Nobel Prize in Literature in 1911, 1912, and 1916.