The Jerilderie Letter
- Ned Kelly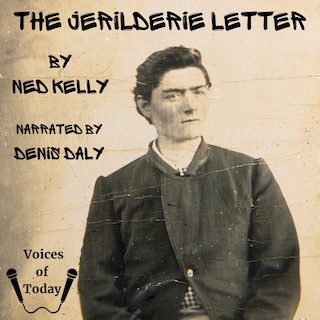 Zusammenfassung
The Jerilderie Letter



By Ned Kelly



Narrated by Denis Daly



Edward "Ned" Kelly (1854 -1880) was the last and most celebrated Australian bushranger (outlaw).



After being implicated in the shooting of three policemen at Stringybark Creek in October, 1878, Kelly and his gang were declared by the Victorian government to be outlaws, and were the subjects of an extensive man hunt over the next two years.



In February, 1879, the Kelly gang staged a daring and highly organized raid on the Bank of New South Wales in the town of Jerilderie. During the occupation of the town Kelly dictated a letter to fellow gang member Joe Byrne, which he wished the editor of the Jerilderie & Urana Gazette to publish. Unable to locate the editor of the paper, Kelly gave the letter to Edwin Living, the accountant of the bank, with a demand that it be printed. However, the letter was not actually published until 1930



In the letter the outlaw gives a detailed explanation of his various grievances and, in particular, attempts to justify his actions at Stringybark Creek.



Kelly was captured after an epic shootout at the Glenrowan Hotel in June 1880, and was executed by hanging in Melbourne on 11th November.


© Voices of Today (Hörbuch)