The House in the Cerulean Sea

- TJ Klune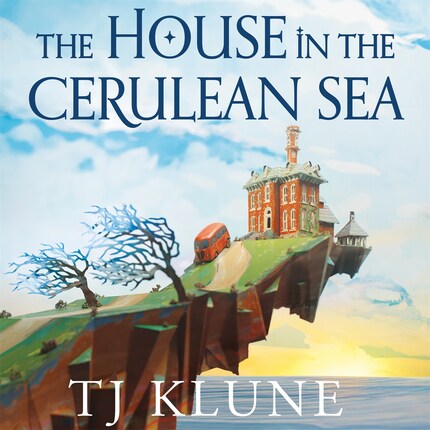 Zusammenfassung
An enchanting story, masterfully told, The House in the Cerulean Sea by TJ Klune is about the profound experience of discovering an unlikely family in an unexpected place – and realizing that family could be yours.

'I loved it. It is like being wrapped up in a big gay blanket. Simply perfect' – V. E. Schwab, author of The Invisible Life of Addie LaRue

He expected nothing. But they gave him everything . . .

Linus Baker leads a quiet life. At forty, he has a tiny house with a devious cat and his beloved records for company. And at the Department in Charge of Magical Youth, he's spent many dull years monitoring their orphanages.

Then one day, Linus is summoned by Extremely Upper Management and given a highly classified assignment. He must travel to an orphanage where six dangerous children reside, including the Antichrist. There, Linus must somehow determine if they could bring on the end of days. But their guardian, charming and enigmatic Arthur Parnassus, will do anything to protect his wards. As Arthur and Linus grow ever closer, Linus must choose between duty and his dreams.

The House in the Cerulean Sea by TJ Klune is an uplifting, heart-warming fantasy tale that's become a New York Times, USA Today and Washington Post bestseller.

'Likely to cause heart-swelling' – Washington Post

'A modern fairy tale . . . It's a beautiful book' – Charlaine Harris, number one New York Times bestselling author

'Touching, tender and truly delightful' – Gail Carriger, author of Soulless


Das denken andere über das Buch
Rezensionen zu The House in the Cerulean Sea -
Hörbuch
A heartwarming and wonderful story!
Super schöne Geschichte mit untypischen Maincharakters, da durch sehr erfrischend. Der Mittelteil war etwas langatmig weshalb ich ewig gebraucht habe es zu ende zuhören. Ein wohlfühl Hörbuch.
Ich mochte die Story wirklich sehr.
Kurzweilige schöne Geschichte mit witzigen Charakteren und tiefgehender Moral.
I absolutely loved this book! It wasn't particularly suspenseful and exciting but it was so much better! It was such a heart warming story and the characters were so beautifully written, that I just fell in love with them immediately! The best thing about this book is that the author is soooo good at writing with so much humor I had to laugh out loud so many times! This just showed me again that a book doesn't need to have a overly exciting storyline to become a capturing book, but an author that knows how to write with witt and humor! Absolutely recommend this!!
Ungewöhnlich und einfach wundervoll
Da war leider kein Spannungsbogen
Das Buch war genau so wie ich es mir vorgestellt habe! Die Charaktere hätte ich gerne direkt mit nach Hause genommen, die Landschaft hörte sich so wunderschön an, dass ich gerne direkt dorthin gezogen wäre! Das Buch ist wie einer dieser Träume, an die man sich gerne zurück erinnert und die immer ein warmes Gefühl im Bauch hinterlassen.
Beautiful and open minded adolescence book. Being-friendly as it is supposed to be!
Such a heartwarming story with marvelous characters! Looking forward to read more of this author 💛