The Gambler
- Katherine Thurston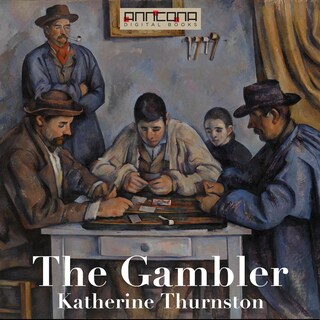 Zusammenfassung
The Gambler is a novel by Katherine Thurston first published in 1905.

Clodagh, 18 years old, is the eldest daughter of Dennis Asshlin, an Irish gentleman who lives in an area of Ireland called Orristown. Dennis is passionate, proud and indebted to no one. But, Dennis has an obsession with gambling that is leading the family to ruin.

When tragedy strikes, Clodagh finds herself in a situation where she must defend the family honor because "no Asshlin is ever obliged to anyone". She marries a man she does not love who is many times her age and is thrust from adolescence to adulthood literally overnight.

Clodagh travels to Europe and mingles with people of society and fashion which through her immaturity, she believes is her right. She finds instead uncertainty, despondency, and deceit. Her emotions are constantly in battle with reality as she discovers her society acquaintances are not the "friends" she believes them to be.

During her visit to Europe, Clodagh discovers that she too is burdened with the Asshlin curse for gambling which eventually leads to more heartbreak. A chance encounter seems to change her life and she returns to Ireland, only once again to be thwarted by the Asshlin curse. A surprise and tense ending is in store for the listener.

Katherine Cecil Thurston (1875-1911) was an Irish novelist. Katherine Thurston's novels achieved success not only in Great Britain but in the United States as well.

Her best known work was a political thriller titled John Chilcote, M.P. (as The Masquerader in the United States) published in 1904. It was on the New York Times Best Seller list for two years, ranking as the third best-selling book for 1904 and the seventh best selling in 1905. Ms. Thurston's next book, The Gambler, came out in 1905 and it too made the list of bestselling novels in the United States for that year, coming in at number 6. It marked the first time the New York Times recorded any author, female or male, as having two top ten books in a single year.


© Anncona Media (Hörbuch)
© Anncona Media (E-Book)