The Five Jars
- M. R. James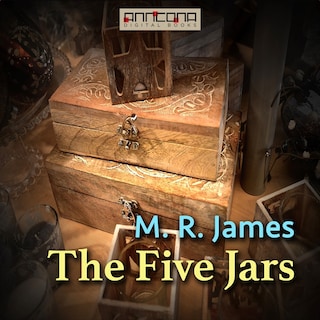 Zusammenfassung
The Five Jars is the only novel written by English author M. R. James, who is best known for his ghost stories.

The Five Jars is a peculiarly surreal fantasy originally written for children but thrilling enough for adult readers.

While he is out walking, the narrator is drawn to a remote pool, and finds a small box that has been hidden since Roman times. Inside he discovers magic jars that allow him to see the other world of fairies, gnomes, and such.

He gradually learns how to use its contents, fighting off a series of attempts to steal it, and becomes aware of a very strange world hidden from our own. . .

The Five Jars was first published in 1922. Audiobook read by Peter Yearsley, running time 2 hours, 11 min. Unabridged full version. Also available as E-Book: ePUB, 25,100 words, average reading time 2 hours, 10 min.

Montague Rhodes James (1862-1936), was an English medieval scholar. He is best remembered for his ghost stories, which are regarded as among the best in the genre. James redefined the ghost story for the new century by abandoning many of the formal Gothic clichés of his predecessors and using more realistic contemporary settings. However, James's protagonists and plots tend to reflect his own antiquarian interests. Accordingly, he is known as the originator of the "antiquarian ghost story".


© Anncona Media (Hörbuch)