The Doom That Came to Sarnath (Howard Phillips Lovecraft)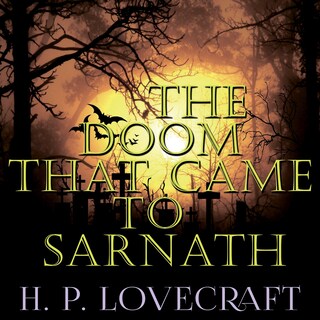 Zusammenfassung
"The Doom that Came to Sarnath" (1920) is a fantasy short story by American writer H. P. Lovecraft. It is written in a mythic/fantasy style and is associated with his Dream Cycle. It was first published in The Scot, a Scottish amateur fiction magazine, in June 1920.
The Doom That Came to Sarnath and Other Stories is also the title for a collection of short stories by Lovecraft, first published in February 1971.
According to the tale, more than 10,000 years ago, a race of shepherd people colonized the banks of the river Ai, in a land called Mnar, forming the cities of Thraa, Ilarnek, and Kadatheron (not to be confused with Kadath), which rose to great intellectual and mercantile prowess. Craving more land, a group of these hardy people migrated to the shores of a lonely and vast lake at the heart of Mnar, founding the city of Sarnath...
Famous works of the author Howard Phillips Lovecraft: At the Mountains of Madness, The Dreams in the Witch House, The Horror at Red Hook, The Shadow Out of Time, The Shadows over Innsmouth, The Alchemist, Reanimator, Ex Oblivione, Azathoth, The Call of Cthulhu, The Cats of Ulthar, The Dunwich Horror, The Doom that Came to Sarnath, The Festival, The Silver Key, The Other Gods, The Outsider, The Temple, The Picture in the House, The Shunned House, The Terrible Old Man, The Tomb, Dagon, What the Moon Brings.
© 2020 Strelbytskyy Multimedia Publishing (Hörbuch)