The Doctor's Dilemma
- George Bernard Shaw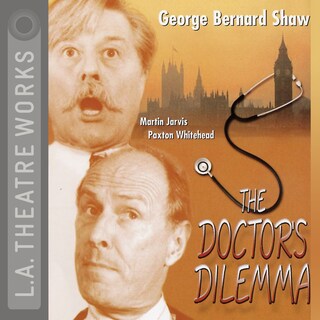 Zusammenfassung
The blowhards, the know-it-alls, the scrupulous and the impecunious are all targets for Shaw's incisive wit in his classic satire of the medical profession. A well-respected physician is forced to choose whom he shall save: a bumbling friend or the ne'er-do-well husband of the woman he loves.
An L.A. Theatre Works full cast performance featuring:
Jane Carr as Emmy/Minnie Tinwell
Gregory Cooke as Redpenny/Newspaper Man
Kenneth Danziger as Dr. Blinkensop/Mr. Danby
Roy Dotrice as Sir Patrick Cullen
Martin Jarvis as Sir Colenso Ridgeon
Jennifer Dundas as Jennifer Dubedat
Simon Templeman as Cutler Walpole
Douglas Weston as Louis Dubedat
Paxton Whitehead as Sir Ralph Bonington
Includes a conversation with Dr. Neil Wenger, the Director of the Healthcare Ethics Center at the University of California-Los Angeles.
Directed by Rosalind Ayres. Recorded before a live audience at the Skirball Cultural Center, Los Angeles in December of 1998.
The Doctor's Dilemma is part of L.A. Theatre Works' Relativity Series featuring science-themed plays. Major funding for the Relativity Series is provided by the Alfred P. Sloan Foundation to enhance public understanding of science and technology in the modern world.
© 1998 L.A. Theatre Works (Hörbuch)