Summary, Analysis, and Review of Emily Ley's When Less Becomes More
Making Space for Slow, Simple, and Good
- Start Publishing Notes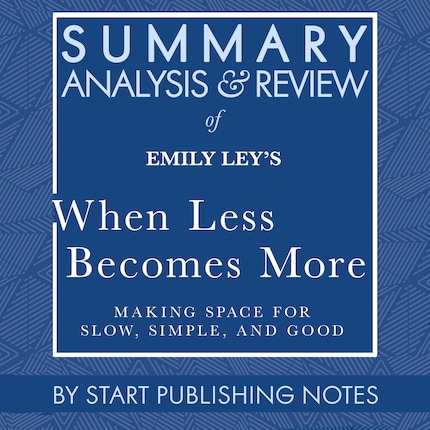 Zusammenfassung
PLEASE NOTE: This is a summary, analysis and review of the book and not the original book.

Author and entrepreneur Emily Ley shares her personal experience and wisdom in an attempt to help women find balance in their lives. She reveals the secrets that have helped her find joy and peace despite her hectic role as a mother of three, wife, and businesswoman.

What Does this Start Publishing Notes' Summary, Analysis, and Review Include?
Summary of the original book
Easily digestible takeaways distilling the main ideas
Steps to cultivate the stillness that re-energizes your body, mind, and soul
Ways to create a happy home and be a better parent
Editorial Review & Analysis
Background on Emily Ley

About the Original Book:
Today, more than ever, the majority of women struggle to balance their personal and work lives. They have to juggle between being wives, mothers, and professionals. As a result, many women are suffering through stress, discontentment, and even burnout. Emily Ley provides practical solutions that are designed to help steer you away from the edge and back into your true harmonious self. She shares her insight into how she went from depressed and stressed mom/entrepreneur to a thriving individual once again. It's time to lay aside the perfectionism and endless chase for more. It is possible to create your dream life by keeping things simple, slowing down your pace, and learning to settle for good enough.

DISCLAIMER: This book is intended as a companion to, not a replacement for, When Less Becomes More Start Publishing Notes is wholly responsible for this content and is not associated with the original author in any way.