Summary, Analysis, and Review of Brian Greene's Until the End of Time
Mind, Matter, and Our Search for Meaning in an Evolving Universe
- Start Publishing Notes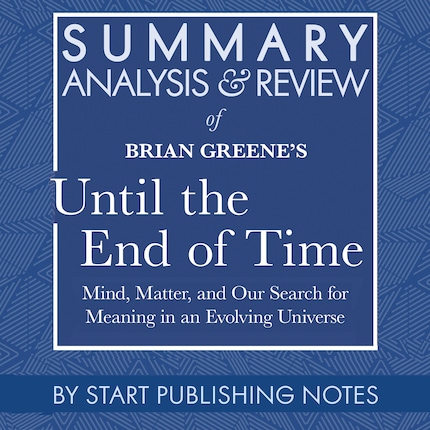 Zusammenfassung
PLEASE NOTE: This is a summary, analysis and review of the book and not the original book.

In Until the End of Time, physicist and mathematician Brian Greene offers a detailed analysis of the origins and ultimate destruction of our universe. He explains how and why everything in our universe will ultimately cease to exist, and in so doing forces us to rethink the meaning and purpose of our lives.

What Does this Start Publishing Notes' Summary, Analysis, and Review Include?
Summary of the original book
Easily digestible takeaways distilling the main ideas
An overview of the evolution of life and consciousness
What the future holds, and how life as we know it will end
Editorial Review & Analysis
Background on Brian Greene

About the Original Book:
We get up every day and make all kinds of choices, often believing that we are doing what's best for our future. But what does the future truly hold for humanity and the greater universe? Brian Greene's latest book, Until the End of Time, is an insightful scientific exploration of the inevitability of death and decay. He presents proof that everything that lives in the universe will ultimately be destroyed, whether through natural death or spectacular cataclysm. We know that our lives are fleeting, and our daily endeavors are but vain attempts at achieving a measure of immortality. Therefore, if all life will end, the only thing that makes sense is to find meaning within ourselves and in the present moment.

DISCLAIMER: This book is intended as a companion to, not a replacement for, Until the End of Time. Start Publishing Notes is wholly responsible for this content and is not associated with the original author in any way.