Robinson Crusoe - Written Anew for Children
- Daniel Defoe, James Baldwin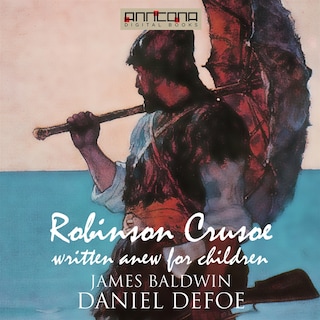 Zusammenfassung
Robinson Crusoe Written Anew for Children is an adaption for grammar school children by James Baldwin of Daniel Defoe's novel Robinson Crusoe. Ages 9-15.

The story of Robinson Crusoe tells how the shipwrecked sailor makes a new life for himself on the island, providing shelter, food, and clothing for himself from the few tools he rescued from the ship and what he is able to find on the island. He lives on the island over twenty years before he is finally rescued and during that time must re-invent almost everything necessary for daily sustenance.

We have published this as a complement to the original Robinson Crusoe by Defoe and the recording of Mary Godolphin's version, Robinson Crusoe in words of One Syllable. So many different versions for a variety of young audiences speaks to the timelessness of Defoe's original!

Daniel Defoe (c. 1660-1731), was an English trader, writer, journalist and spy, now most famous for his novel Robinson Crusoe. Defoe is notable for being one of the earliest proponents of the novel, as he helped to popularize the form in Britain, and, along with others such as Samuel Richardson, is among the founders of the English novel. A prolific and versatile writer, he wrote more than 500 books, pamphlets and journals on various topics (including politics, crime, religion, marriage, psychology and the supernatural).