Raising Tech-Healthy Humans
- Daniel Sih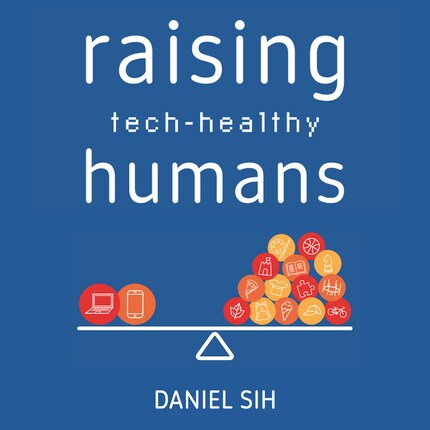 Zusammenfassung des Buches
It's tough being a parent today, and much of this has to do with technology.
This well-researched and uplifting guide provides practical strategies to instil healthy tech and non-tech habits in your children and pre-teens, setting them up for life.
Written for busy parents who are stretched for time, this engaging audiobook will inspire, encourage, and guide you in the wonderfully complex task of raising tech-healthy humans.
You will discover answers to questions such as:
- When should I give my child a smartphone?
- How do I encourage screen-time limits?
- What types of media are better for my child's brain?
- How do I initiate relationship-forming tech conversations?
- What can I do to get my kids outdoors having fun?
This book was awarded 'Best Parenting Book' at the eLit Book Awards in 2023 (USA) and is narrated by the multi-award-winning Australian author and TEDx speaker, Daniel Sih.
This audiobook is a true Sih family project, narrated by Daniel and Kylie Sih, with special appearances from their talented children, Naomi, Caleb, and Jethro Sih.
Download this audiobook to help your children enjoy the online world without losing the wonders of life beyond a screen.
ENDORSEMENT BY STEVE BIDDULPH, BEST-SELLING AUTHOR OF RAISING BOYS, RAISING GIRLS AND MANHOOD:
"What a relief and a joy to find a book on parenting that is so well set out, so clear, so easy and fun to read. Daniel Sih writes with such personality and humility you feel that you know him, and he is on the journey with you. This book is about freedom, and love, and choice. Well done, Daniel Sih."