Murder at the Mousetrap
- Helena Marchmont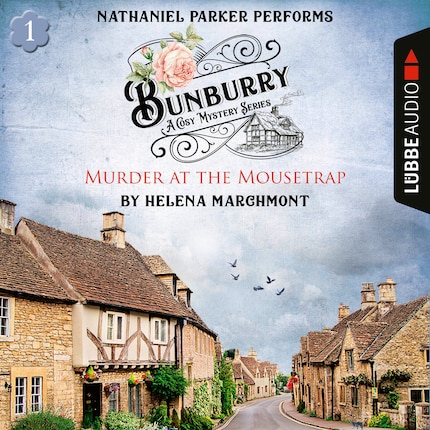 Zusammenfassung
Miss Marple meets Oscar Wilde in this new series of cosy mysteries set in the picturesque Cotswolds village of Bunburry.

Alfie McAlister has retreated from London to the peace and quiet of the country to recover from a personal tragedy. But an accidental death - which may have been no accident - reveals that the heart of England is far from the tranquil backwater he imagined. After arriving in Bunburry, he is co-opted as an amateur detective by Liz and Marge, two elderly ladies who were best friends with Alfie's late Aunt Augusta. And it is not long before their investigations take an even more dramatic turn ...
In "Murder at the Mousetrap," the first Bunburry book, fudge-making and quaffing real ale in the local pub are matched by an undercurrent of passion, jealousy, hatred and murder - laced with a welcome dose of humour.

Nathaniel Parker, born in 1962, graduated from the London Academy of Music and Dramatic Art and went on to join the Royal Shakespeare Company. His television career began in 1988 when he played Flying Officer 'Flash' Gordon in the LWT mini-series Piece of Cake. He is also the lead in the BBC series Inspector Lynley Mysteries, based on the novels by Elizabeth George. Nathaniel Parker has an extensive list of audio books to his credit, ranging from the classics of Charles Dickens and Thomas Hardy to more modern writings and children's books.
© 2019 Lübbe Audio (Hörbuch)
© 2019 Lübbe Audio (Hörbuch)