The Metal Monster
- Abraham Merritt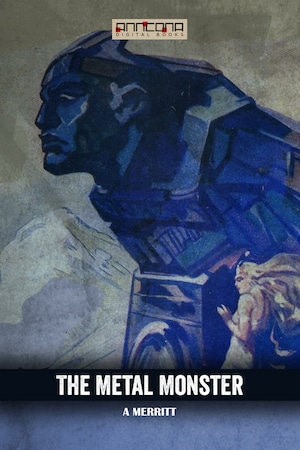 Zusammenfassung
The Metal Monster is an Abraham Merritt fantasy novel. It was first serialized in Argosy All-Story Weekly in 1920 and features the return of Dr. Goodwin who first appeared in The Moon Pool.

The epic adventure starts with a foreword where Merritt is assigned the duty to relay Dr. Walter T. Goodwin's incredible tale of his encounter in the Trans-Himalayan mountains to the world, to let everyone know the terrible fate Goodwin's group barely escaped and the possibility of other such monsters out there.

In the wilds of the Trans-Himalayan region, a quartet of adventurers led by Dr. Walter T. Goodwin stumbles upon a tribe of human primitives forgotten since the age of Alexander the Great, and an awesome being of living metal commanded by the exiled Norhala. As Norhala's guests, Goodwin and his team witness the mind-boggling marvels that are the Metal Monster's way of life, and the unspeakable horrors it commits when Norhala takes it to war against her persecutors.

This book was a favorite of H. P. Lovecraft, though he at first avoided the revised version, at the suggestion of C. M. Eddy, Jr.. According to his March 6, 1934 letter to James F. Morton:
" Other recent items on my calendar are ... A. Merritt's old yarn The Metal Monster, which I had never read before because Eddy told me it was dull. The damn'd fool! (nephew - not our late bibliophilick friend) Actually, the book contains the most remarkable presentation of the utterly alien and non-human that I have ever seen. I don't wonder that Merritt calls it his "best and worst" production. The human characters are commonplace and wooden - just pulp hokum - but the scenes and phaenomena... oh, boy!

Abraham Merritt (1884-1943), is one of the forgotten masters of weird fiction. His work ranges from horror (Burn Witch Burn) to epic fantasy (The Ship of Ishtar). His writing could be described as a blend of dark fantasy and the 19th century tale of adventure in the style of H. Rider Haggard, with a dash of the Conan Doyle of the Professor Challenger stories. Merritt's stories typically revolve around conventional pulp magazine themes: lost civilizations, hideous monsters, etc. His heroes are gallant Irishmen or Scandinavians, his villains treacherous Germans or Russians and his heroines often virginal, mysterious and scantily clad. What sets Merritt apart from the typical pulp author, however, is his lush, florid prose style and his exhaustive, at times exhausting, penchant for adjective-laden detail. Abraham Grace Merritt was inducted in The Science Fiction and Fantasy Hall of Fame in 1999, its fourth class of two deceased and two living writers.