Mad about You

- Mhairi McFarlane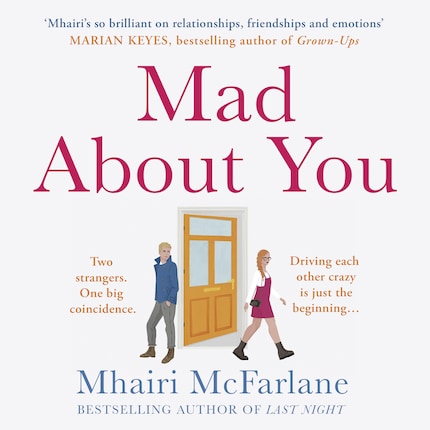 Zusammenfassung
'I love, love, love Mhairi . . . I read this with delight and envy' MARIAN KEYESThe brilliant new romcom from the bestselling author of mega-hit, Last Night

Two strangers.
One big coincidence.
Driving each other crazy is just the beginning…

Harriet Hatley is running away from everything.

Getting married.
Her boyfriend's family.
Her past.

A dream house-share seems like the perfect place to hide, but her unlikely housemate Cal is no stranger to running away himself. And he's also hiding secrets of his own . . .

Can these two take a crazy risk, face the past and finally find a reason to stay?

____________________

'Gorgeous, funny, life-affirming' JENNY COLGAN

'Funny, poignant, full of insight . . . a triumph' KATIE FFORDE

'Mhairi's writing is always just super witty with layered, emotional depth . . . Loved. Adored. All-star.'

'A compelling, clever story, while still being so ridiculously funny and heartwarming' LUCY VINE

'A plot that gets under your skin, and one scene in particular that will have women everywhere cheering out loud' LUCY DIAMOND

'The master of thought-provoking romantic fiction' SOPHIE COUSENS

'Burningly funny, achingly romantic, and a plot so tightly crafted it's like a song' LAURA JANE WILLIAMS

'Mhairi consistently writes flawless romantic comedies and Mad About You is no exception' HOLLY BOURNE

'So funny, so sad . . . so sharp and heartwarming' LIA LOUIS

'Full of compassion and hope, and blissfully, wonderfully romantic' CRESSIDA MCLAUGHLIN

'Laugh-out-loud funny, devastatingly moving, and delightfully swoony' LOUISE O'NEILL

'Mhairi is absolutely brilliant . . . I'm in awe of her talent' EMMA HUGHES

'I can't remember the last time I enjoyed a book so much' GILLIAN MCALLISTER

'Smart, funny and feel-good with cracking one liners. Mhairi at her brilliant best' ALEX BROWN

'Hilarious, wise, and clever . . . and chemistry that sizzles off the page' JUSTIN MYERS

<


Das denken andere über das Buch
Rezensionen zu Mad about You -
Hörbuch
Leider passt die Beschreibung nicht zum Inhalt. Die Geschichte von Harriet und Cal ist quasi nur eine Randnotiz und die "Heldin" ist außerdem selbstgerecht und unsympathisch.
Eine meiner Lieblingsautorinnen mit spritzigen Dialogen und Top Mischung aus Romantik und "echtem Leben". Nie langweilig!
I loved this story about true friendship, love and the hardships of life! The story contains several twists which makes it very exciting and interesting up until the end!
Good book terrible speaker
I enjoyed the book, it had nice twists and although some parts were foreseeable it still was exciting until the end- but: the speaker presented the story in such a monotonous way- honestly I would have done better. No stressing of words, no imitating of different protagonists. And a squeaky voice. Just terrible. Please, don't let her read any more novels.
Oh what a Book!
A book about friendship and self-love and kindness and support by total strangers. A book I want to read if I ever feel insecure in a relationship and a book I want to give to a friend who's trapped in a crappy one. A book that makes me proud to be a woman.
Sehr empfehlenswert
Mein Favorit von Mhairi McFarlanes Büchern. Mit vielen Auf- und- Abs der Gefühle, eine herzerwärmende Erzählung von Girl Power und eine Erinnerung an Hoffnung. Nur zu Empfehlen für ein bisschen Feel-good und Humor 🌞
Loved it
Another great book by Mhairi McFarlane. 🙂👍 I couldn't put it down before I was finished. Funny, gut-wrenching and heart-warming.