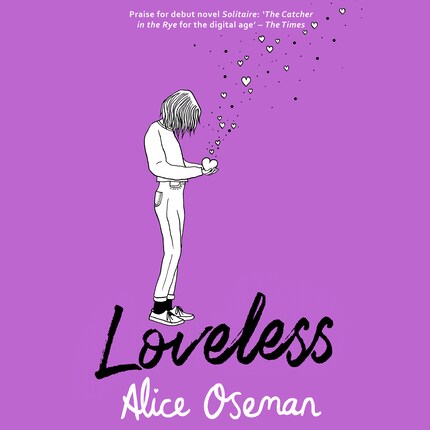 Zusammenfassung
WINNER OF THE YA BOOK PRIZE 2021

LONGLISTED FOR THE POLARI CHILDREN'S & YA BOOK PRIZE 2022

A NEW YORK TIMES BESTSELLER

The fourth novel from the phenomenally talented Alice Oseman, author of Solitaire and the graphic novel series Heartstopper – now a major Netflix series.

It was all sinking in. I'd never had a crush on anyone. No boys, no girls, not a single person I had ever met. What did that mean?

Georgia has never been in love, never kissed anyone, never even had a crush – but as a fanfic-obsessed romantic she's sure she'll find her person one day.

As she starts university with her best friends, Pip and Jason, in a whole new town far from home, Georgia's ready to find romance, and with her outgoing roommate on her side and a place in the Shakespeare Society, her 'teenage dream' is in sight.

But when her romance plan wreaks havoc amongst her friends, Georgia ends up in her own comedy of errors, and she starts to question why love seems so easy for other people but not for her. With new terms thrown at her – asexual, aromantic – Georgia is more uncertain about her feelings than ever.

Is she destined to remain loveless? Or has she been looking for the wrong thing all along?

This wise, warm and witty story of identity and self-acceptance sees Alice Oseman on towering form as Georgia and her friends discover that true love isn't limited to romance.

'A joyous, disarmingly honest book that seems to leap right inside the mind of a teenage girl' Independent [now iNews]

'Loveless is an ode to friendship and platonic soulmates; this cosy blanket of a novel understandably won the YA Book Prize 2021' Irish Times

'A joyful tale of self-discovery" The Bookseller


Das denken andere über das Buch
Rezensionen zu Loveless -
Hörbuch
Das schönste Buch, dass ich seit langem gelesen/gehört habe. Wie liebevoll, herzerwärmend & -zerreißend, ehrlich und offen. 10/5 Stars.
What a beautiful story for young adults but also older about love in such a different way
Loved it sooooo much. The naration was really good too!
What a great book - finally a story about A-Sexuality and the power of friendship. I loved it and the way it was read!
So queer! I love everything about this. Amazing characters, cute storyline, many feels. 10/10
Beautiful and heartwarming
Aroace visibility im screaming! Truly a heartwarming story <3
Wirklich schöne Geschichte. Liebe und Freundschaft mal anders und zum Nachdenken anregend. Kann ich sehr empfehlen.