How to Kill Your Family
- Bella Mackie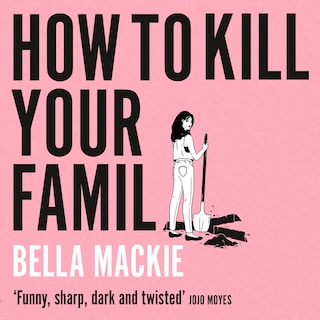 Zusammenfassung
THE #1 SUNDAY TIMES BESTSELLER'I loved this book' RICHARD OSMAN

'Funny, sharp, dark and twisted' JOJO MOYES

'Chilling, but also laugh-out-loud funny. Another corker' SUNDAY TELEGRAPH

They say you can't choose your family. But you can kill them.

Meet Grace Bernard.
Daughter, sister, serial killer…
Grace has lost everything.
And she will stop at nothing to get revenge.

–––––––––––––––––––––––––––––-

'Funny and furious and strangely uplifting. Grace is a bitter and beguiling anti-hero with a keen eye for social analysis – even in her most grisly deeds, you never stop rooting for her' PANDORA SYKES

'Deliciously addictive…brilliantly executed' i PAPER

'Addictive… Grace Bernard is one of the most intriguing and bewitching protagonists I've read in years' EMMA GANNON

'A funny, compulsive read about family dysfunction and the media's obsession with murder' SUNDAY TIMES STYLE

'You'll be gripped… Grace's emotional detachment throughout will give you chills' Rated 5 stars by COSMOPOLITAN
⭐⭐⭐⭐⭐

'Hilarious and dark' ELLE

'Ironic twists and caustic commentary on everything from liberal guilt to the consumerist con that is "selfcare" sharpen this debut novel' OBSERVER

'Brilliantly tongue-in-cheek stuff from the Vogue columnist' IRISH INDEPENDENT

'Witty, waspish satire of a murderer with no regrets' GRAZIA

'Original, funny, unique and such a refreshing read' PRIMA

'A deliciously dark debut novel' RED

'One very entertaining read' WOMAN'S WAY

How To Kill Your Family was number 1 in the Sunday Times paperback chart on 26/04/2022


Das denken andere über das Buch
Rezensionen zu How to Kill Your Family -
Hörbuch
The best book I've listen to in years
Spannend bis zum Ende! Wow!
Böser schwarzer Humor vom Feinsten!
Excellent
Enjoyed it very much.
It's a gripping and fun story- you'll root for the psychopathic protagonist and feel for her! But it will also leave you enraged and with a burning desire to smash patriarchy!
Cool
einfach wunderbar spannend!