Dwellers in the Mirage
- Abraham Merritt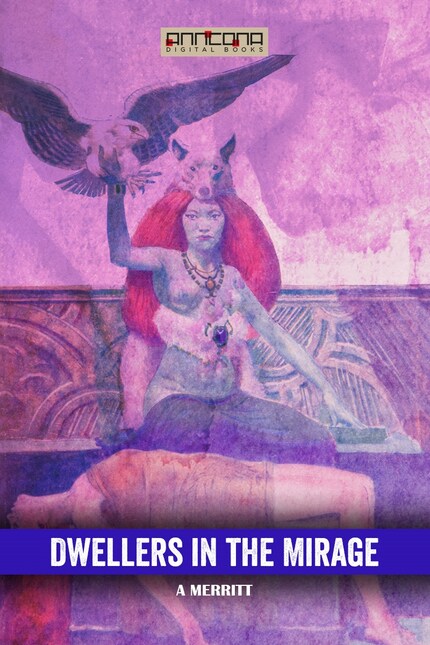 Zusammenfassung
Dwellers in the Mirage is a fantasy novel by A. Merritt. It was first published in book form in 1932 by Horace Liveright. The novel was originally serialized in six parts in the magazine Argosy beginning with the January 23, 1932 issue.

The novel concerns American Leif Langdon who accidentally discovers a warm valley in Alaska and suddenly is ripped from the 20th century and plunged into the ancient world of The Mirage. Two races inhabit the valley, the Little People and a branch of an ancient Mongolian race and they worship the evil Kraken named Khalk'ru which they summon from another dimension to offer human sacrifice. But his entrance into this awesome land awakened the slumbering Dwayanu, who in this strange incarnation was also Leif. Thus, two-men-in-one battle with the beautiful witch-woman Lur and the ethereal beauty Evalie for the glory of The Mirage.

Abraham Merritt (1884-1943), is one of the forgotten masters of weird fiction. His work ranges from horror (Burn Witch Burn) to epic fantasy (The Ship of Ishtar). His writing could be described as a blend of dark fantasy and the 19th century tale of adventure in the style of H. Rider Haggard, with a dash of the Conan Doyle of the Professor Challenger stories. Merritt's stories typically revolve around conventional pulp magazine themes: lost civilizations, hideous monsters, etc. His heroes are gallant Irishmen or Scandinavians, his villains treacherous Germans or Russians and his heroines often virginal, mysterious and scantily clad. What sets Merritt apart from the typical pulp author, however, is his lush, florid prose style and his exhaustive, at times exhausting, penchant for adjective-laden detail. Abraham Grace Merritt was inducted in The Science Fiction and Fantasy Hall of Fame in 1999, its fourth class of two deceased and two living writers.