Deathworld

- Harry Harrison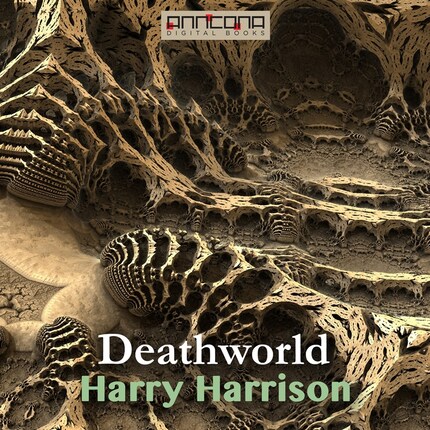 Zusammenfassung
Deathworld is a science fiction novel by Harry Harrison first published in 1960.

Deathworld is the first in a series of novels begun in 1960 and originally serialized in Astounding Science Fiction Magazine.

It's the story of Jason dinAlt a professional gambler with psionic skills who finds himself on Pyrrus the deadliest planet to be colonized by humanity.

Violent weather, active tectonics, heavy gravity, abundant predators, and a hostile splinter group of colonists is only the beginning of Jason's quest to learn the truth about Pyrrus.

"Some planet in the galaxy must—by definition—be the toughest, meanest, nastiest of all. If Pyrrus wasn't it ... it was an awfully good approximation! "

Deathworld is the name of a series of science fiction novels by Harry Harrison including the books Deathworld (first published 1960, serialized in Astounding Science Fiction), Deathworld 2 (1964, initially titled The Ethical Engineer and serialized in Analog) and Deathworld 3 (1968, serialized in Analog as The Horse Barbarians), plus the short story "The Mothballed Spaceship" (1973).

Total Running Time (TRT): 5 hours, 14 min. Reading by Gregg Margarite.

Harry Max Harrison (1925-2012) was an American science fiction author. Harrison is known for his writing, particularly his humorous and satirical science fiction, such as the Stainless Steel Rat series and the novel Bill, the Galactic Hero (which satirises Robert A. Heinlein's Starship Troopers). Harrison is also known for his novel Make Room! Make Room! (1966). The novel was the rough basis for the motion picture Soylent Green (1973).


© Anncona Media (Hörbuch)