B. J. Harrison Reads The Man Who Knew Too Much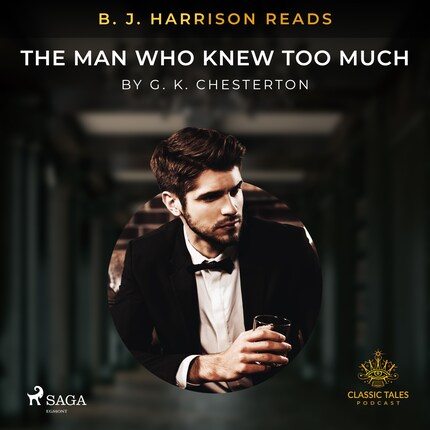 Buchbeschreibung
"The Man Who Knew Too Much" tells the story of Horne Fisher and the burden he had to carry throughout his whole life. He knew too much about politicians and aristocracy, about corruption and covered crimes. The prime minister of England was a friend of his father, the foreign minister married his sister. Without even intending to, he found out many things about the private life of politicians, which is very different from what is presented to the people. The question is, what is Fisher going to do with all this information?

B. J. Harrison started his Classic Tales Podcast back in 2007, wanting to breathe new life into classic stories. He masterfully plays with a wide array of voices and accents and has since then produced over 500 audiobooks. Now in collaboration with SAGA Egmont, his engaging narration of these famous classics is available to readers everywhere.

Gilbert Keith Chesterton was an English writer who lived in the period 1874-1936. He was a prolific journalist and wrote over 4,000 newspaper essays. He even had his own newspaper "G.K.'s Weekly" which he edited himself. He was also a very successful critic with a wide variety of interests, including history, philosophy, theology and economics. This led him to leave an enormous literary legacy with a wide diversity of topics. He wrote novels, short stories, mysteries and poems. His writing was often marked by a sense of humor, which he employed while discussing serious topics, and because of that he was nicknamed "the prince of paradox". Some of his best known works are "The Everlasting Man", "The Napoleon of Notting Hill" and "Charles Dickens: A Critical Study".