B. J. Harrison Reads The Man from Snowy River and Other Poems
- Banjo Paterson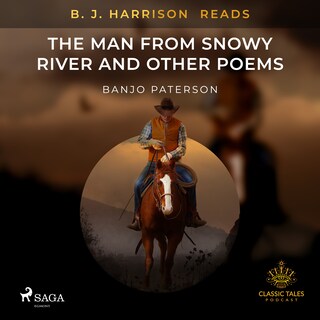 Zusammenfassung
"The Man from Snowy River and Other Poems" is one of the best known collections of poems by Banjo Paterson and was published first in 1895. It includes 48 poems which are described by Rolf Boldrewood as "the best bush ballads".
From horseback pursuits, through romantic views of rural life, and humorous incidents with a drover of sheep, "The Man from Snowy River and Other Poems" will give you the possibility to immerse yourself into Australia's nature and feel its different and colorful sides.

B. J. Harrison started his Classic Tales Podcast back in 2007, wanting to breathe new life into classic stories. He masterfully plays with a wide array of voices and accents and has since then produced over 500 audiobooks. Now in collaboration with SAGA Egmont, his engaging narration of these famous classics is available to readers everywhere.

Banjo Paterson was an Australian author who lived in the period 1864 – 1941. He grew up in New South Wales, one of the many so called "outback" areas in Australia. Later this influenced Paterson's literature and he became best known with for "bush poems" which described those natural, undeveloped areas. Banjo Paterson's poems gained him wide popularity in Australia and over the whole world. His collection of poems "The Man from Snowy River and Other Verses" and "Waltzing Matilda" which is Australia's unofficial national anthem, are some of the poet's most notable works.