B. J. Harrison Reads The Invisible Man, a Father Brown Mystery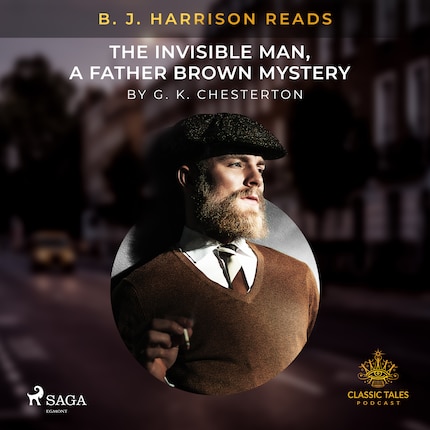 Buchbeschreibung
Isidore Smythe is in danger. He has received threating letters and he does not see a way out. John Angus offers Smythe his help and Smythe is escorted back to his flat. Angus is determined to find out who has sent the letters and he heads out to the former criminal Flambeau and the private detective Father Brown. Before he leaves Smythe's apartment, he instructs four people to keep an eye on him. Yet when he comes back Smythe is missing and there's a bloodstain on the floor. Is Smythe dead or has he been kidnapped? Who is responsible? Will Angus, Flambeau and Brown manage to solve the case? Find out in "The Invisible Man, a Father Brown Mystery".

B. J. Harrison started his Classic Tales Podcast back in 2007, wanting to breathe new life into classic stories. He masterfully plays with a wide array of voices and accents and has since then produced over 500 audiobooks. Now in collaboration with SAGA Egmont, his engaging narration of these famous classics is available to readers everywhere.

Gilbert Keith Chesterton was an English writer who lived in the period 1874-1936. He was a prolific journalist and wrote over 4,000 newspaper essays. He even had his own newspaper "G.K.'s Weekly" which he edited himself. He was also a very successful critic with a wide variety of interests, including history, philosophy, theology and economics. This led him to leave an enormous literary legacy with a wide diversity of topics. He wrote novels, short stories, mysteries and poems. His writing was often marked by a sense of humor, which he employed while discussing serious topics, and because of that he was nicknamed "the prince of paradox". Some of his best known works are "The Everlasting Man", "The Napoleon of Notting Hill" and "Charles Dickens: A Critical Study".