B. J. Harrison Reads The Hand of Fu-Manchu
- Sax Rohmer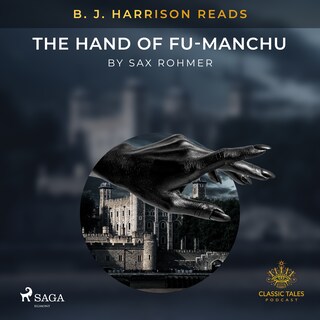 Zusammenfassung
"The Hand of Fu-Manchu" is the third book in the Fu-Manchu series. It follows the mad doctor's adventures in the wicked underground world of crime. A secret organisation threatens to destroy the foundations of global power by resorting to assassinations and terrorism. Once again, Fu-Manchu faces Nayland Smith in this heart-stopping adventure full exotic settings, opium addicts, and villainous acts of treachery and malice.

B. J. Harrison started his Classic Tales Podcast back in 2007, wanting to breathe new life into classic stories. He masterfully plays with a wide array of voices and accents and has since then produced over 500 audiobooks. Now in collaboration with SAGA Egmont, his engaging narration of these famous classics is available to readers everywhere.

Sax Rohmer (1883-1959), the pseudonym of Arthur Henry Ward, was a British writer of crime and supernatural fiction, famous for the creation of the villain Fu-Manchu. The occult played an important part in his life, and many of his works are directly influenced by it. He wrote many novels, short stories, and non-fiction works, among which were "The Fu-Manchu" series, "Brood of the Witch-Queen", and "The Yellow Claw".