B. J. Harrison Reads The Empty House
- Algernon Blackwood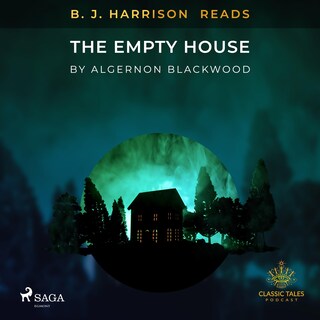 Zusammenfassung
An aunt and her nephew embark on a weird adventure. They attempt to spend a night in a house which witnessed way more dangerous days. A man was murdered many years ago. And the aunt and her nephew want to find out if something or someone was left behind. How will their night end and will they see? Will they have the courage to stay inside or the house will not accept the self-invited guests?
Find out the answers in "The Empty House", a ghost story by Algernon Blackwood.

B. J. Harrison started his Classic Tales Podcast back in 2007, wanting to breathe new life into classic stories. He masterfully plays with a wide array of voices and accents and has since then produced over 500 audiobooks. Now in collaboration with SAGA Egmont, his engaging narration of these famous classics is available to readers everywhere.

Algernon Blackwood was an English author who lived in the period 1869-1951. He left a large literary legacy behind, but he is to be remember mostly for stories about ghosts and supernatural occurrences. His personal life and the many travels he embarked on through the world had a major influence upon his works. He had a life-long interest in spiritualism and the occult, the reason for which can be seen in the fact that his father was a preacher. Blackwood wrote several novels, essays, children's books, and plays but his ghost tales which create "a weird atmosphere" are the ones that remain in the reader's mind.