B. J. Harrison Reads The Doll's Ghost
- Francis Marion Crawford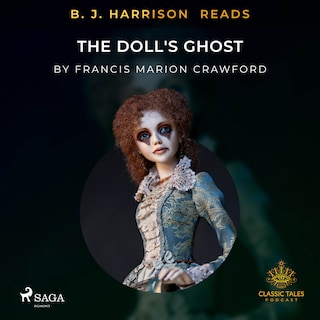 Zusammenfassung
Lady Gwendolen drops her precious doll Nina and breaks it. Mr. Puckler, a doll doctor, mends the doll and sends his daughter Else to return Nina to her owner. But times passes and Else is nowhere to be seen. What has happened to her? And where is the repaired doll? Does she have something to do with Else's disappearing? Maybe the doctor repaired the doll a bit too much and it came to life? Find out the answers in "The Doll's Ghost" by Francis Crawford.

B. J. Harrison started his Classic Tales Podcast back in 2007, wanting to breathe new life into classic stories. He masterfully plays with a wide array of voices and accents and has since then produced over 500 audiobooks. Now in collaboration with SAGA Egmont, his engaging narration of these famous classics is available to readers everywhere.

Francis Marion Crawford was an American writer who lived in the period 1854 – 1909. His literary legacy consists mainly of novels, a big part of which are set in Italy, the place where he spent most of his life. Crawford objected to the realistic fiction that was popular at the time and he preferred writing romantic novels with vivid and colorful depictions. Some of his best known works are the "Don Orsino", "Sant' Ilario" and "Corleone" but he also wrote several short stories, which are often described as classics of the horror genre. Although Francis Crawford lived in Italy, wrote about Italy and stood apart from the American literature, he had a strong connection with his homeland and travelled there often.