B. J. Harrison Reads The Blood Is The Life
- Francis Marion Crawford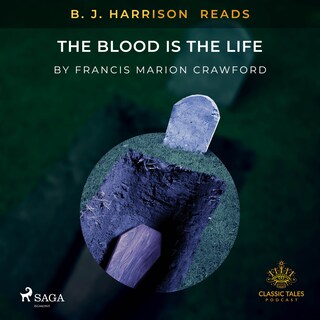 Zusammenfassung
A man visits his friend, a Scandinavian artist who lives in an old Italian villa. They go out on the balcony, enjoying the calm and beautiful night. Then the guest suddenly sees a strange mound of earth with a body next to it. The artist knows the story and it goes way back in time. Angelo and Cristina were a couple in love who did not get the chance to be together. Cristina was killed by two robbers. Since then a strange body appears in the moonlight. "The Blood Is The Life" is one of Francis Crawford's best known horror stories and it will chill your blood and keep you at the edge of your seat until the very end.

B. J. Harrison started his Classic Tales Podcast back in 2007, wanting to breathe new life into classic stories. He masterfully plays with a wide array of voices and accents and has since then produced over 500 audiobooks. Now in collaboration with SAGA Egmont, his engaging narration of these famous classics is available to readers everywhere.

Francis Marion Crawford was an American writer who lived in the period 1854 – 1909. His literary legacy consists mainly of novels, a big part of which are set in Italy, the place where he spent most of his life. Crawford objected to the realistic fiction that was popular at the time and he preferred writing romantic novels with vivid and colorful depictions. Some of his best known works are the "Don Orsino", "Sant' Ilario" and "Corleone" but he also wrote several short stories, which are often described as classics of the horror genre. Although Francis Crawford lived in Italy, wrote about Italy and stood apart from the American literature, he had a strong connection with his homeland and travelled there often.