B. J. Harrison Reads The Cremation of Sam McGee
- Robert W. Service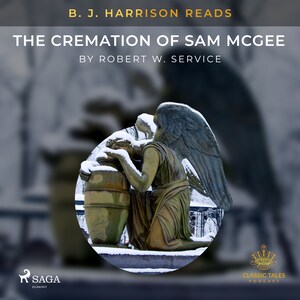 Zusammenfassung
Sam McGee is one of the many gold miners of the Klondike Gold Rush. The freezing-cold and harsh winter of Yukon is about to take his next victim in the face of McGee. The poor man freezes to death on the trail. The night before he passed away, McGee had asked his friend, the narrator of the story, to cremate his remains, saying that he did not want to be buried in the frozen ground. However, after the man is cremated some strange things begin to happen.

Why does McGee not want to be buried in the frozen ground? And what will happen after his cremation? Find out the answers in one of Robert W. Service's most famous poem, the 1907 "The Cremation of Sam McGee".

B. J. Harrison started his Classic Tales Podcast back in 2007, wanting to breathe new life into classic stories. He masterfully plays with a wide array of voices and accents and has since then produced over 500 audiobooks. Now in collaboration with SAGA Egmont, his engaging narration of these famous classics is available to readers everywhere.

Robert William Service (1874 - 1958) was a British-Canadian writer and poet. Before he began writing, Service worked as a bank clerk on a ranch on Vancouver Island and was therefore often called "the Bard of the Yukon". He travelled a lot in Western America and was inspired by the tales of the Klondike Gold Rush. Service's collection of poems "Songs of a Sourdough" achieved a massive success and secured him a wealthy life on the French Riviera.