Animals ABC 1 - Flash Cards Pictures and Words Learn English
54 Learning Cards to Learn English the Easy Way with Animal ABC Flashcards
- First Words Books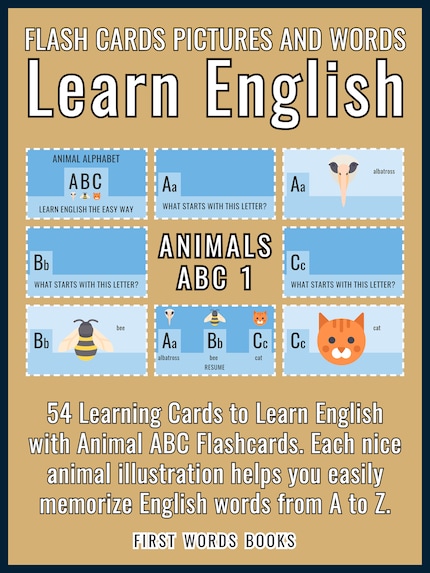 Zusammenfassung
This English flashcards set contains more than 50 learn english cards to easily learn English alphabet and learn english language using Animals images and names.

Each beautiful Animal illustration helps you easily memorize the english alphabet and lern Enghlish vocabulary in a simple and fun way.

This Animals ABC is a simple and powerful system to use to learn vocabulary, using visual and word elements arranged in a beautiful way.

This picture words flash cards set can be used as learning cards for toddlers, learning cards for kids or adults and: will make fun and motivating to learn first words in English will help children and adults to learn easily with flash cards words and picture will give you a powerful tool for learning new words in English vocabularyThese Animal ABC flashcards, learning flash cards with pictures and words were made for you to learn Eenglish easy.

Use our learning cards for kids and adults to learn your first words in English today!