9 Things a Leader Must Do

- Henry Cloud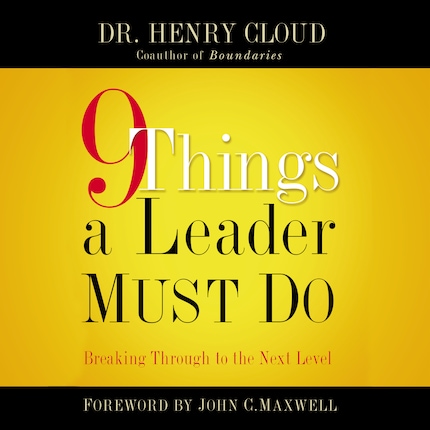 Zusammenfassung
Discover the secrets that will help you focus on the dynamics that make a difference in your organization—and your life.

Why do some leaders get and accomplish what they want as a matter of routine, while others seem to regularly experience frustration and setbacks? Why do some leaders achieve their goals and reach new heights, while others barely "hang in there" and survive?

Based on his groundbreaking psychological study of the ways that successful individuals think and behave, Dr. Henry Cloud presents a simple yet profound roadmap to help leaders—and those who want to become leaders—arrive at greater levels of personal growth and corporate influence than they previously thought were possible.

In 9 Things a Leader Must Do, you will learn to:

Discover and invest in your inner desires and drivesNot allow a sense of negativity to take up space in your mind and lifeEvaluate your decisions in the present based on how they will affect the futureContinually ask yourself, "What can I do to make this situation better?"Achieve big goals by taking small steps over timeDevelop the ability to hate the right things wellGive more and better than you are givenNot strive to be or to appear more than you really are— but really embrace your own identityMake decisions without fear of other people's reactions

The good news for all of us is that leadership success is not limited to vague notions of "charisma" nor traditional advantages like graduate degrees and connections, but much more to a pattern of thinking and moving forward that learns from mistakes and stays focused on goals.