50 Masterpieces you have to read before you die vol: 1
- Jules Verne, Oscar Wilde, Mark Twain und weitere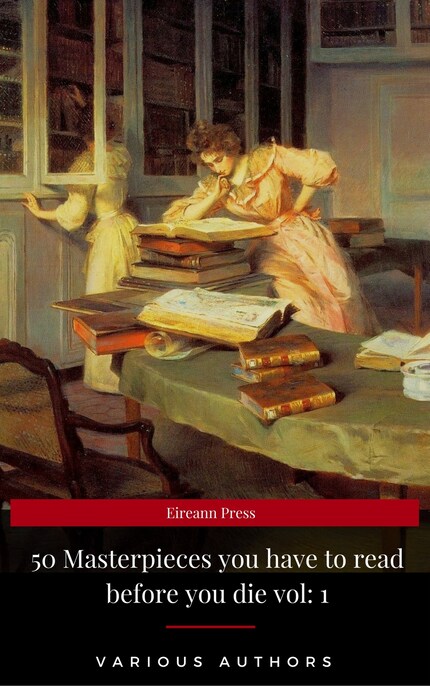 Zusammenfassung
This book contains now several HTML tables of contents.
The first table of contents (at the very beginning of the ebook) lists the titles of all novels included in this volume. By clicking on one of those titles you will be redirected to the beginning of that work, where you'll find a new TOC that lists all the chapters and sub-chapters of that specific work.

This 1st volume contains the following 50 works, arranged alphabetically by authors' last names:
- Little Women [Louisa May Alcott]
- Sense and Sensibility [Jane Austen]
- Peter Pan (Peter and Wendy) [J.M. Barrie]
- Cabin Fever [ B. M. Bower]
- The Secret Garden [Frances Hodgson Burnett]
- A Little Princess [Frances Hodgson Burnett]
- Alice's Adventures in Wonderland [Lewis Carroll]
- The King in Yellow [Robert William Chambers]
- The Man Who Knew Too Much [Gilbert Keith Chesterton]
- The Woman in White [Wilkie Collins]
- On the Origin of Species, 6th Edition [Charles Darwin]
- Robinson Crusoe [Daniel Defoe]
- The Iron Woman [Margaret Deland]
- David Copperfield [Charles Dickens]
- Oliver Twist [Charles Dickens]
- A Tale of Two Cities [Charles Dickens]
- The Double [Fyodor Mikhailovich Dostoyevsky]
- The Hound of the Baskervilles [Arthur Conan Doyle]
- The Memoirs of Sherlock Holmes [Arthur Conan Doyle]
- The Three Musketeers [Alexandre Dumas]
- The Curious Case of Benjamin Button [Francis Scott Fitzgerald]
- A Room with a View [E. M. Forster]
- Dream Psychology [Sigmund Freud]
- Tess of the d'Urbervilles [Thomas Hardy]
- Siddhartha [Hermann Hesse]
- Dubliners [James Joyce]
- The Arabian Nights [Andrew Lang]
- The Sea Wolf [Jack London]
- The Call of Cthulhu [Howard Phillips Lovecraft]
- Anne of Green Gables [Lucy Maud Montgomery]
- Beyond Good and Evil [Friedrich Wilhelm Nietzsche]
- The Murders in the Rue Morgue [Edgar Allan Poe]
- The Black Cat [Edgar Allan Poe]
- The Raven [Edgar Allan Poe]
- The Fall of the House of Usher [Edgar Allan Poe]
- Swann's Way [Marcel Proust]
and more...