5 - Numbers - Flash Cards Pictures and Words English Spanish
70 Cards - Spanish vocabulary learning flash cards with pictures for beginners
- First Words Books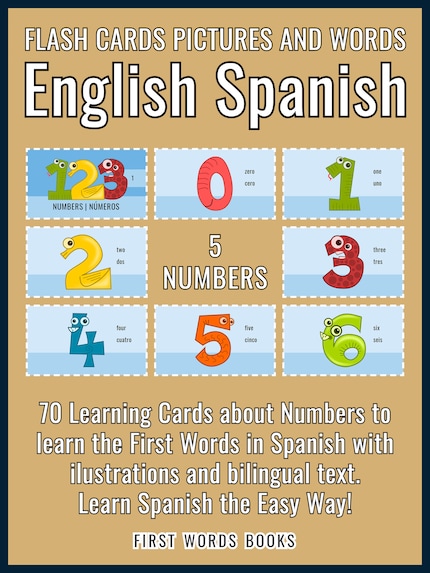 Zusammenfassung
This English and Spanish flashcards set contains more than 70 Spanish English bilingual flashcards about Numbers.

Each beautiful illustration has its description in English and Spanish, and that makes it a powerful system to use to build a bilingual vocabulary and teach visual words in both languages.

This picture words flash cards set can be used as learning cards for toddlers, learning cards for kids or adults and:

- will make fun and motivating to learn first words in Spanish
- will help children and adults to learn easily with flash cards words and picture
- will give you a powerful tool for learning new words in two languages: English and Spanish.

These learning flash cards with pictures and words were made for you to learn Spanish the easy way.

Use our learning cards for kids and adults to learn your first words in Spanish today!